Worthington OH Homes for Sale & Real Estate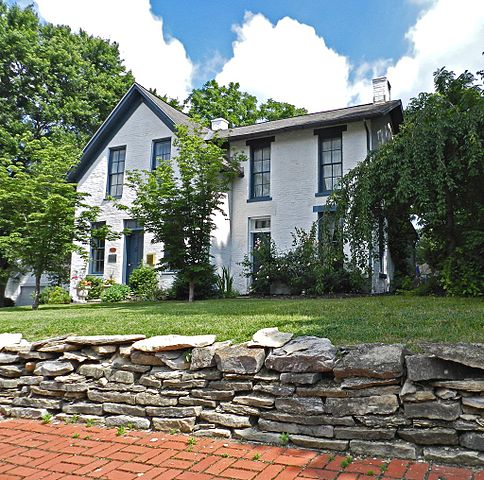 Worthington Ohio is home to roughly 15,000 residents about 20 minutes north of downtown Columbus bordered by Clintonville, Flint, Forest Park East, and Brookside Woods in Franklin County. It's considered a northern suburb of Columbus and the center of the state at Ohio's Cross Road, the intersection of US state Route 23 and state Route 161 and offers easy access to all parts of Ohio offering all the attractions and conveniences of the big city combined with small-town charm. Read on below the listings to learn more about relocating to Worthington Ohio.
Have a day to spend in Worthington? Check out these hot spots!
Displayed below are homes for sale in Worthington, OH, a city located in Franklin County. Listings are updated every 15 minutes from the MLS.
For more information about any of these Worthington real estate listings, click the "Request More Info" button located on the detail page of each property. We can provide you with the disclosures and past sales history of each listing as well as dates and prices of homes that have recently sold nearby in Worthington.
And for your convenience, register for a free account to automatically receive email notifications of new listings that hit the Worthington, OH, market that match your search criteria and save your favorites for quick access.
Worthington
December 6, 2023
Relocating to Worthington Ohio
Worthington got its start back in 1803 and was one of the Midwest's first planned communities combining commerce, residential life, education and faith reflecting its New England heritage with authentic and small-town charm. Many of the brick sidewalks lead to the central village green which offers most of the commercial buildings and churches.
Worthington History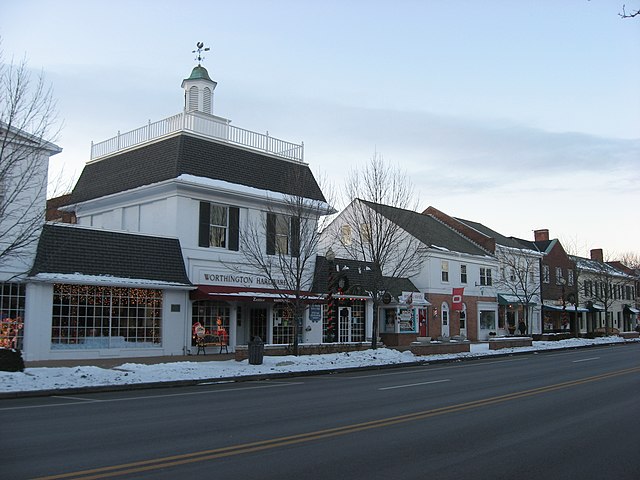 Dating back to the early 1800s and just after Ohio became a state, 11 families left Connecticut and traveled by wagon train to the Worthington area. They named the new Village Worthington in honor of Thomas Worthington, one of Ohio's first senators and future governor. The small pioneer village prospered and the post office was built in 1805, an Academy in 1808, and a newspaper and manufacturing company in 1811. In 1835, the Ohio legislature incorporated Worthington as its own village with an elected council and mayor. It continued to grow in population and served as the market center for surrounding agricultural farms throughout the remainder of the 19th century.
When the electric street railway connected Columbus to Worthington in 1893, the village became a suburb of the main city and continue to grow with private homes and estates. In 1954, residents of the Colonial Hills neighborhood facilitated petitions to annex to Worthington. The subdivision actually had more residents than the village itself and together, they had more than the 5000 residents needed to be incorporated as a city. Shortly thereafter, population grew exponentially up until about 1970. New subdivisions,, and annexations helped grow Worthington and when Interstate 270 was completed in 1975 defining Worthington's northern boundary, growth stabilized and the Worthington school district was created also covering significant areas outside the city's boundaries.
Today, Worthington is home to roughly 15,000 residents featuring amazing schools, shops, markets, restaurants, and a variety of residential neighborhoods. It's considered the #6 Best Pl. to live in the Columbus Metro area. But don't take our word for it, here's what locals have to say about living in Worthington.
"I recently moved to Worthington from the New Albany area and I feel right at home! I live in an apartment complex and have easy access to all major road and highways. Even with the freeway so close, the neighborhood is nestled back in a way that there is almost no noise! Close by there is downtown Worthington, a quaint area with antique shops, small cafes, and even a historic looking Dairy Queen. On Saturdays, the community hosts a farmers market to support local businesses and farmers sell their stock. One of my favorite parts about Worthington is the access to a wide variety of activities. Spend your day strolling through the park, or catch a movie at Crosswoods! The overall small community holds new opportunities around every corner. Stop off at at a pub for a drink and some evening entertainment, or head to the mall and shop until you drop! Worthington is a great place for anyone to live for individuals and families. It's my recommendation to consider Worthington as your next move" - Niche.com
Worthington Ohio Schools
Worthington operates its own public school system and features 39 public schools as well as several private schools. Many of the elementary schools receive top marks from great schools.org such as Evening Street elementary school, Bluffsview, Brookside, and Worthington Estates. There are four main middle schools including Kilborne and McCord being the top-rated. There's one high school, the Thomas Worthington high school in the school district, which also receives top reviews and ratings. It's home to about 1800 students with a student-teacher ratio of 17:1.
What to Do in Worthington
Worthington is alive with shops, restaurants, a vibrant farmers market, events, food fairs, and parks. The Worthington Green Team is a coalition dedicated to implementing sustainable initiatives within the city. A vegetarian diet, increase community participation and promote growing Ohio native plants.
The Worthington Historical Society offers walking tours around historic Worthington where you can stop and visit museums, tour the Orange Johnson House, or simply learn more about African-American history in Worthington,, tour the historic district, and through the city cemeteries.
Worthington boasts a lot of great festivals such as Concerts on the Green, Fourth of July festivals, pride celebrations, and the inclusion of D.O.R.A, which stands for designated outdoor refreshment area. This four-year-old pilot program allows communities to create these unique areas for whatever purposes they deem necessary. Individuals will be allowed to walk within these boundaries with an alcoholic beverage purchased from a liquor permit holding establishment. This means that beer gardens have a whole new meaning.
Worthington is also big on Sunday Funday. Throughout the summer, merchants of Old Worthington celebrate Sunday Funday once a month through November hosting an afternoon of themed food, entertainment, and specials in the fantastic historic district.
Love farmer's markets? Worthington has a pretty amazing farmers market every Saturday from 9 AM until 12 PM April through November. Enjoy local produce, artisan meats and cheeses, fresh baked goods, and local gifts that you can only find here.
Worthington Real Estate
The average home price is about $400,000 in Worthington. You'll find condominiums, townhouses, single-family homes, and even properties along the river or with river views. There are several neighborhoods to choose from including Worthington Place, High Point North, Worthingway, Kilborne Village, Morris, and Wilson Hill just to name a few. For more information on homes for sale in Worthington Ohio, browse active listings above or contact our office at any time to be connected with a Worthington Realtor® today.
All Central Ohio Real Estate
Contact Your Worthington Realtor®
Image By Don O'Brien - Flickr: Lewis Noble House aka Hubert E. Stritmatter House, Bishop Noble House, CC BY 2.0, https://commons.wikimedia.org/w/index.php?curid=15585999 By Nyttend - Own work, Public Domain, https://commons.wikimedia.org/w/index.php?curid=12521390