Columbus OH Homes for Sale
Columbus Real Estate Listings
Welcome to Columbus Ohio. If you're planning to move to Columbus, here's a great place to start. You can learn a little bit about the city, relocation information and of course, all of the real estate listings currently for sale in Columbus Ohio. As the state capital, Columbus is the most populated city in the state with nearly 1 million residents and the 14th most populated city in the United States. Read on below the listings to learn more about Columbus, local schools, neighborhoods, where to live in Columbus, and just general information about the folks that live here.
Displayed below are homes for sale in Columbus, OH, a city located in Franklin County. Listings are updated every 15 minutes from the MLS.
For more information about any of these Columbus real estate listings, click the "Request More Info" button located on the detail page of each property. We can provide you with the disclosures and past sales history of each listing as well as dates and prices of homes that have recently sold nearby in Columbus.
And for your convenience, register for a free account to automatically receive email notifications of new listings that hit the Columbus, OH, market that match your search criteria and save your favorites for quick access.
Columbus
December 6, 2023
Relocating to Columbus Ohio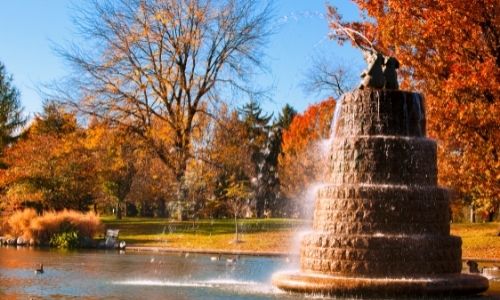 Whether you're moving for work, family, or just a new and fresh lease on life, Columbus Ohio is a wonderful place to call home. And clearly, nearly 1 million folks in the general Columbus area think so. But what are some other great things about Columbus?
"I love Columbus! It is an area that keeps growing and expanding with people of all different cultures and backgrounds. There are lots of opportunities to meet new people and explore exciting places. Almost anyone can find something they enjoy here to do. The activities are numerous. For example, they have multiple music halls to suit everyone's tastes. The Newport is great for alternative and up-and-coming artists and the Schottenstein Center houses tons of big artists. In addition to entertainment, there are lots of parks for being in an urban environment. This is great for people with dogs or people who just need a break from the hectic feel of city life. I would highly recommend this area for people with families as well. There are growing suburban areas surrounding Columbus that have great schools and shops of their own to explore. Once I am done with college, I may set up a permanent home in Columbus myself because the environment is unmatched." - Niche.com
Columbus's tech industry is booming.
Are you moving for work? Well, if you are in the tech industry, Columbus is a great place to lay down some roots. It's one of the top-rising cities for startups by Forbes magazine, it's one of the best cities to work for Intech according to Smart Asset, and it's the 6 the city for the most profitable businesses by Lending Tree. There are tech startups, tech companies, and well-established businesses all over the Columbus area. With good funding, a cost of doing business that's 2% lower than the national average, and a well-educated community, it's easy to see why Columbus is great for those looking to start their own business or get involved in the tech industry.
Low cost of living.
Columbus offers a very affordable cost of living. With high salaries and good funding sources, according to Smart Asset, "the average tech salary in Columbus is $92,440, which places it at the top 15 best places in the country." But, that's not just income; basic necessities, housing, medical expenses, gas, and other services and amenities are also generally lower than the national average.
Kick'n culture, great vibes, and plenty to do.
Columbus has a vibrant culture scene with a lot of theaters, performing arts centers, museums, galleries, and plenty of musicians playing in fantastic clubs and restaurants all over the city. The city is also home to the Ohio Theater, which opened in 1928 and hosts the Columbus Symphony Orchestra, BalletMet, and the Broadway Series as well as others. The Columbus Museum of Art is a great place to find fine art pieces and with the Children's Science Museum, botanical gardens, zoo and aquarium, events, family fun, and things to do are pretty much endless.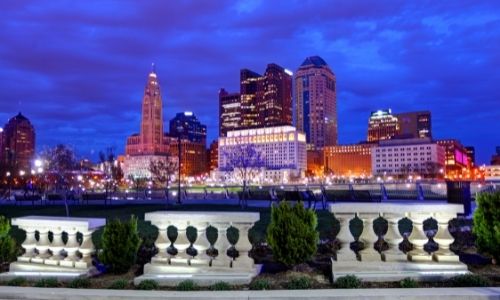 Plus, Columbus is one of the most diverse Midwestern cities. It's been increasing over the years and 82% of new residents are foreign-born. The city actually has the second-largest Somali population in the country with a thriving Japanese, Korean, and Indian population as well. Columbus is also very LGBTQ friendly with plenty of hotspots and events going on year-round.
Festivals, food, and fun.
Columbus is known as a "foodie city" with fantastic ice cream, farmer's markets, shopping, dining options, and fun take-out. And, craft beer and wineries are excellent in the Columbus area. You'll always find a festival nearly every weekend of the year throughout summer and fall specifically. From arts festivals to Pride festivals, Oktoberfest, jazz and music, food trucks, Fourth of July, it just never ends. Columbus is always celebrating something.
But, you're never too far away from nature. Fantastic trails, hikes, and the famous Highbanks Metro Park with over 1200 acres is ideal for getting lost in nature.
Columbus Schools
Columbus city school district is the largest district and Ohio with over 55,000 students. It operates 142 elementary schools, middle schools, high schools, and a few magnet and alternative schools. Each suburb operates its own district serving students in one or more townships. Some of these districts do cross over certain boundaries. There are private schools as well. Columbus is also home to two public colleges: Ohio State University, one of the largest college campuses in the United States and the Columbus State Community College. Ohio State University has been ranked as one of the best public universities by US News & World Report. There are several private institutions including the Capital University Law School, the Columbus College of Art and Design, Fortis College, DeVry University, and Ohio Business College just to name a few.
Columbus Real Estate
Homes for sale in Columbus start at about $50,000 for manufactured homes and lots with the median home value of about $160,000. 45% of residents own their own homes but with a median run of just $960, renting is extremely popular as well. You'll find condominiums starting at around $100,000 up to $500,000 or more for high-rise, downtown Columbus condominium complexes. Single-family homes typically start around $130,000 up to $1 million or more. You can see above with the listings the variety of homes, styles and price ranges to choose from. There's quite a collection of Columbus real estate to choose from so feel free to browse all active listings above, search Columbus and Central Ohio surrounding suburbs and towns with the linked list below, or give us a call at any time or fill out the form below to let us know exactly what it is you're looking for and your budget. We would love to send you a complete list of homes and real estate in Columbus that meet your search criteria and price. And… Welcome to Columbus!
All Central Ohio Communities
Contact Your Columbus Realtor®
Search Columbus Subdivisions