Awesome Farms and Pumpkin Patches in Central Ohio
Posted by Drew Laughlin on Monday, September 13, 2021 at 6:41 AM
By Drew Laughlin / September 13, 2021
Comment
While it is still officially summer, fall is fast approaching. The central Ohio area is full of amazing great farms that open up to the public for the season. Visiting a farm is an iconic family fun activity to do in the fall and there is no better place to do it than on the farms in Central Ohio. From enjoying local festivals to picking out the perfect pumpkin you could visit one for every farm in the area to have a great fall adventure by yourself or with your family and friends.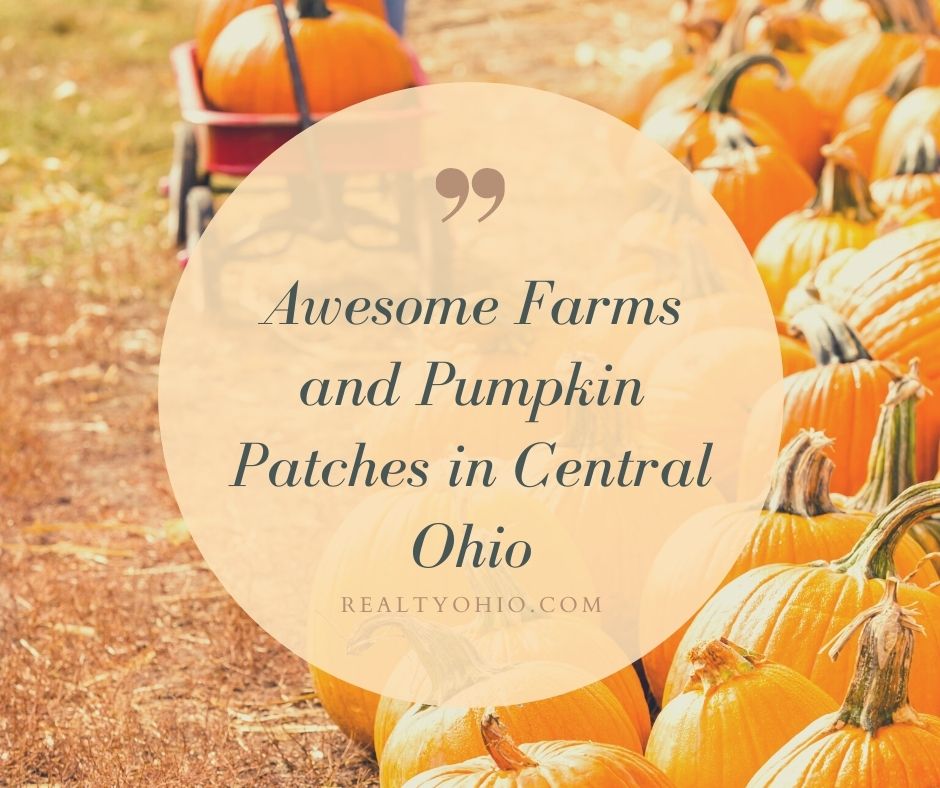 Here are 11 awesome farms located in central Ohio
This family-owned farm has been around for many generations and offers homegrown produce sold in the market at the farm. Produce available in the market is dependent upon the seasonal schedule. In the fall you can find a large variety of different pumpkins and squash as well as great fresh apples if you visit in late September you may be able to pick up some peaches or nectarines. Activities on the farm include a fun petting zoo, corn maze, hayride, and live music events. Lynd's is located at 9399 Morse Rd. SW. in Pataskala.
This farm is at 4413 National Rd. SW. in Hebron. It is just 30 minutes outside of Columbus. At Pigeon Roost Farm you can find activities such as hayrides, face painting, pumpkin picking, jack-o'-lantern carving, and more.
Pick the perfect pumpkin from the giant pumpkin patch, take a tractor-drawn hayride, feed the farm animals, have fun at the pumpkin jump, zip down the zip line, whiz down the slide, and back this year is Witches Night. Leeds Farm is at 8738 Marysville Rd. in Ostrander.
This farm has been in the area since 1995 and grows a large selection of different kinds of pumpkins including green, blue, white, and any shade of orange a pumpkin comes in. There are several family fun activities including a hayride through the pumpkin patch, a playground for little ones, a pumpkin tunnel, the chance to visit farm animals, and more. Hidden Creek Farm is located at 581 S. Galena Rd. in Sunbury.
This family fruit and pumpkin farm focuses on everything to do with fall and fruit. In addition to finding the most perfect pumpkin, you can also pick your own strawberries and raspberries. Fall fun days is a popular festival at the farm where are you can take a hayride, visit the petting zoo, find your way through a corn or sunflower maze, and enjoy traditional fall treats like apple cider, cookies, donuts etc. This farm is located at 9015 London Groveport Rd. in Grove City
This locally owned farm is great for those who may need a place to pick out the perfect pumpkin without a ginormous buzz of activity. The family owned market allows for a pick your own pumpkin experience and also has great locally grown produce including potatoes, squash, apples, etc. This farm market is located at 5950 Shannon Rd. in Canal Winchester
In September Miller's offers apples, winter squash, Indian corn, and fresh apple cider. In October comes pumpkins and decorations for jack-o'-lanterns. On Saturdays and Sundays in October you can take a hayride on a wagon through the pumpkin field to pick your own pumpkin. This farm is located at 2488 Street in West Delaware
A very popular central Ohio spot in the fall this farm is located at 7437 Highland Croix Rd. in Plain City. At the farm you can enjoy pumpkin picking, a straw maze, and beautiful fall decorations. On the weekends they make homemade pumpkin donuts and hand dipped caramel apples.
This is a central Ohio farmers market at 1859 Walker Rd. in Hilliard. At this farmers market you can enjoy a hayride, the pumpkin patch, corn maze, and a petting zoo. There's also plenty of amazing spots for those Instagram photos.
Hoover Gardens is a place to gather up several gorgeous fall blooms and plants for your home in red, yellow, and orange hues. There is no giant pumpkin patch but Hoover Gardens does host a haunted corn maze as well as a haunted night in the garden. Hoover Gardens is located at 182 North Sunbury Rd. in Westerville
Come enjoy the festival called pumpkinpalooza which is an annual favorite of many. Events at this festival include hayrides, pumpkin picking, smiles and sunflowers, and more. The farm is located at 13167 Morse Rd. SW. in Pataskala.
For more information on living in central Ohio including central Ohio real estate please contact us anytime.